About Samuel Dick
Samuel Henry Dick was born in Perth, WA in May 1894 to Samuel & Eliza Dick. He was the third born child to the couple, who moved to Western Australia from Queensland in the early 1890s.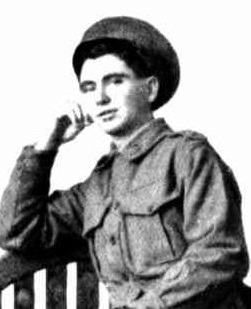 Broome Connection
Sam's sister Rose married Andrew Haldane in Port Hedland in 1909, and not long after the pair moved to Broome. Sam was in Broome during the outbreak of the Great War, and had shares in the pearling lugger Mikado. He enlisted at Broome but was refused on medical grounds. Sam then travelled to Darwin where he was accepted into the AIF, and travelled from Darwin to Brisbane to formally enlist there.
War Service
Sam embarked with his battalion, the 25th Battalion, B Company from Brisbane aboard the HMAT Aeneas on the 29th of June 1915, only two months after his enlistment. The battalion arrived in Egypt in August and by early September were in the trenches at Gallipoli. By this time the Allied offensive had been launched and turned back, so by December of 1915 the battalion returned to Egypt for further training.
The 25th Battalion was the first AIF battalion to arrive in France in March 1916. Their first major battle was at Pozieres, between 25th July and 7th August. Sam was wounded in this battle when he received a gun shot wound to the shoulder and throat. He was transported to England to recuperate and remained there until January 1917 when he returned to France, rejoining his battalion in February. He was promoted to Corporal in December 2017.
Sam underwent further training in March 1918, where he received qualification as 1st Class with a fair working knowledge of a Lewis gun. He arrived back in France in July, where the 25th was involved with the battle at Le Hamel, where the objective was to dislodge the Germans from a position where they overlooked the British lines and to also secure a point from which the Allies could take the initiative.
Sam died when he was hit by shell during a night attack at La Hamel. He was buried at Crucifix Corner Cemetery, Picardie in France.
Enlistment Details
Newspaper Articles
Other Online Resources
View Samuel Dick at the National Archives of Australia
View Samuel Dick at the Australian War Memorial
View Australian Red Cross Wounded & Missing Files
Samuel Dick at Territory Stories